Posts: 132
Joined: Sat Feb 27, 2016 10:52 am
Mine was a Triumph Toledo, similar to this one. I loved it.



Debbie
Attachments

image.jpeg (45.57 KiB) Viewed 2010 times
---
My parents got a car for my older brother to learn in and then when I turned 17 I learnt in it too and we shared it. Something a bit like this:
My own first car was a Fiesta
I loved having a car more than the actual car
---
My first was a proper old man's car:
came with compulsory slippers and pipe - but in my early 20s it was the newest car I would ever buy (still is!) and as my parents had a Montego estate, it was the height of sophistication...
I owned it for three years, and then rapidly went to:
and one of these:
and one of these:
and then got more silly as I went along! A whole range of cars I should never have sold which are now worth far more than I paid!
probably the best three British classics you could have! (not totally sure about the colour choices though!)
It wasn't long before I had 7 cars at one point (now down to 4!)
Alasdair
---
Posts: 1381
Joined: Fri Apr 29, 2016 12:23 pm
My first car was a Triumph Spitfire back in 1977.
Sadly it wasn't in the same condition as this one. In fact when the hard top was removed you had to climb over the doors. The sills were less than rigid and without the extra strength of the hard top the body sagged enough to prevent the doors opening!
Mike Roberts - Now riding a Triumph Explorer XRT. My username comes from my 50K miles on a Kawasaki 1400GTR, after may years on Hondas of various shapes and styles. - https://tinyurl.com/mikerobertsonyoutube
---
I had a Triumph Herald Estate 13/60 with completely rotten outriggers which never passed another MOT.
---
Mine was a 1966 white (and brown
) Beetle not dissimilar to this...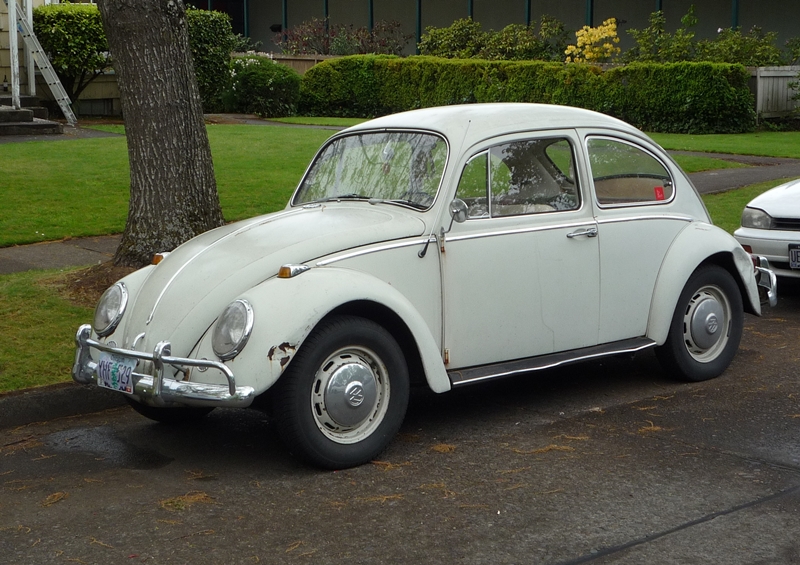 It lasted a year (next MOT was big failure and not worth keeping
).
I followed it up with 3 more Beetles of decreasing age and increasing 'sophistication'
culminating in a lovely Mexican VW Beetle converted to RHD - not dissimilar to this...
According to the DVLA it's still around - well, SORNed anyway. Wish I had it now.
Martin - Bristol IAM: IMI National Observer, Group Secretary, Masters (dist), DSA: ADI, Fleet, RoSPA (Dip)
---
1989 Registered Vauxhall Astra 1.3L... met a fiery demise on my sisters drive
---
1954 Citroen Light 15. Very advanced for the time. Front wheel drive, torsion bar suspension, 3 forward gears with the lever sticking out of the dash, steering wheel the size of the orbit of Venus (no power steering), and was nothing but trouble. Kept it a year then, when we moved from London to Shropshire, my father-in-law bought us a Volvo 122s.
Carpe diem
---
Posts: 132
Joined: Sat Feb 27, 2016 10:52 am
Wow! There are some real gems here!
The photos have brought back some memories!

Two days before my driving test, my Dad offered to take me out in his car which I think was a Morris 1300. I remember getting into the driver seat and barely being able to see over the top of the steering wheel! I recall that it had four huge wings and the front ones had the wing mirrors on them, obscuring my view completely!
The handbrake was a thing you had to pull out from the dashboard.
Dad decided to take me to a steep hill and stop in order to attempt a hill start. Bad idea!
I wasn't able to get the handbrake off, even using both hands.
The rest of the "lesson" didn't go well, either! It all ended in tears and shouting!
Therefore, the Morris 1300 (if that's what it was) is my least favourite car!
---
No photographs I'm afraid as they didn't do such things in my young day ...
A Vauxhall saloon in black and British Racing Rust, bench front seat and three gears on the steering column. Hot damn!
---
---
Who is online
Users browsing this forum: Bing [Bot] and 1 guest